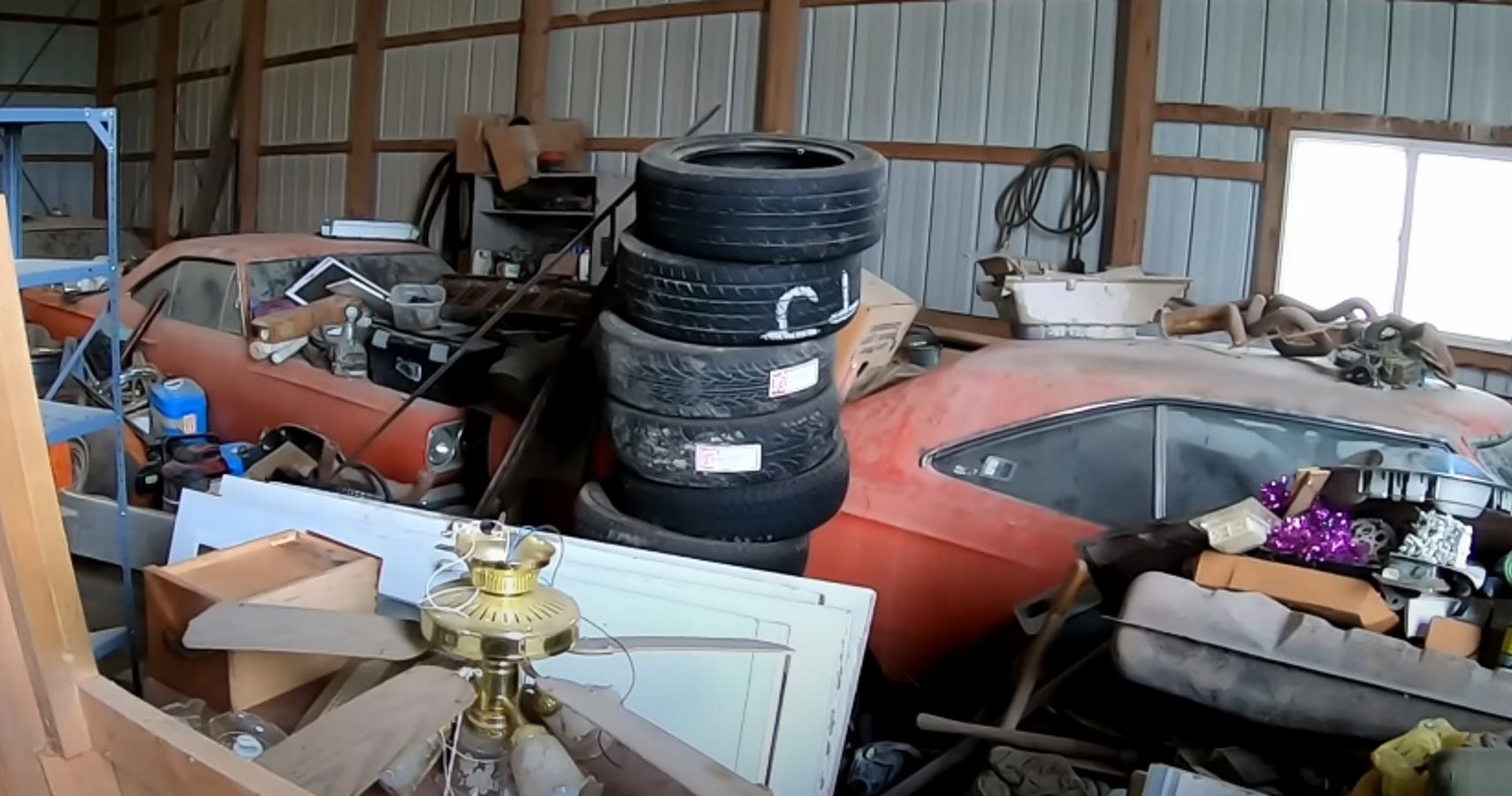 The automotive archaeologist finds a pair of neglected 1968 and 1969 Plymouth Road Runners as well as a 1970 Dodge Charger that needs sprucing up.
Ryan Brutt uses his Auto Archeology YouTube channel to explore a barn housing a trio of legendary Mopar coupes. It's a brief visit involving a lot of trash or hidden gems depending on your perspective. But, a look at the 1968 and 1969 Plymouth Road Runners and a 1970 Dodge Charger offering, hope these classic cars may one day see the road again. Brutt doesn't reveal the location of his barn find, but a look at a dusty Illinois license plate hints it could be in Lincoln Country.
RELATED: 9 Things Everyone Forgot About The Plymouth Road Runner
A building with stories to tell
A first look inside the barn reveals mounds of scrap metal. But as the video progresses, the junk becomes engine blocks, rims, and even Hemi air filters. As they say, one man's trash is another man's treasure.
In previous years, the building housed other classic Mopars, including a 1970 Plymouth Superbird. Brutt shares some footage of the double-decker car, but the details are saved for another video.
RELATED: Here's Where the Fast and Furious 1970 Dodge Charger Is Today
The one that started it all: the 1968 Plymouth Road Runner
Brutt's video only gives viewers a quick glimpse of the 1968 Road Runner, which is the first model year of this performance-oriented Plymouth. The automaker developed the model as an economical alternative to its Mopar cousins ​​and offerings from Ford and General Motors.
It's unclear what's under the hood of this particular Plymouth, but a 383-cubic-inch V8 making 335 horsepower was the standard engine for 1968.
The B-Body continues with the 1969 Road Runner
The Road Runner's B-body platform continued for the 1969 model year (the second generation did not appear until 1971). There weren't many body changes for the '69, but the horizontal grille slats are an easy identifier. Plymouth also introduced a Road Runner convertible.
The 383 engine was retained, but a limited run of examples were built with either a 426 or 440 cubic inch V8, the latter offering up to 390 horsepower. We can only guess what's fueling this weary Plymouth.
A buried 1970 Dodge Charger
Beneath piles of parts and books lies a 1970 Dodge Charger. Although not a 500 or a high-end R/T, it is still a remarkable classic waiting for another chance. Also sharing B-body underpinnings, the 1970 model marked the final year of the second-generation Charger. Unlike the '69 split grille, the 1970 front has an open design framed by a wide bezel.
Likewise, there's no information on this car's powertrain, but the stock engine can range from Chrysler's trusty slant-six to one of many V8 options.
Sources: YouTube/Automotive Archaeology, allpars.com, hagerty.com, hemmings.com