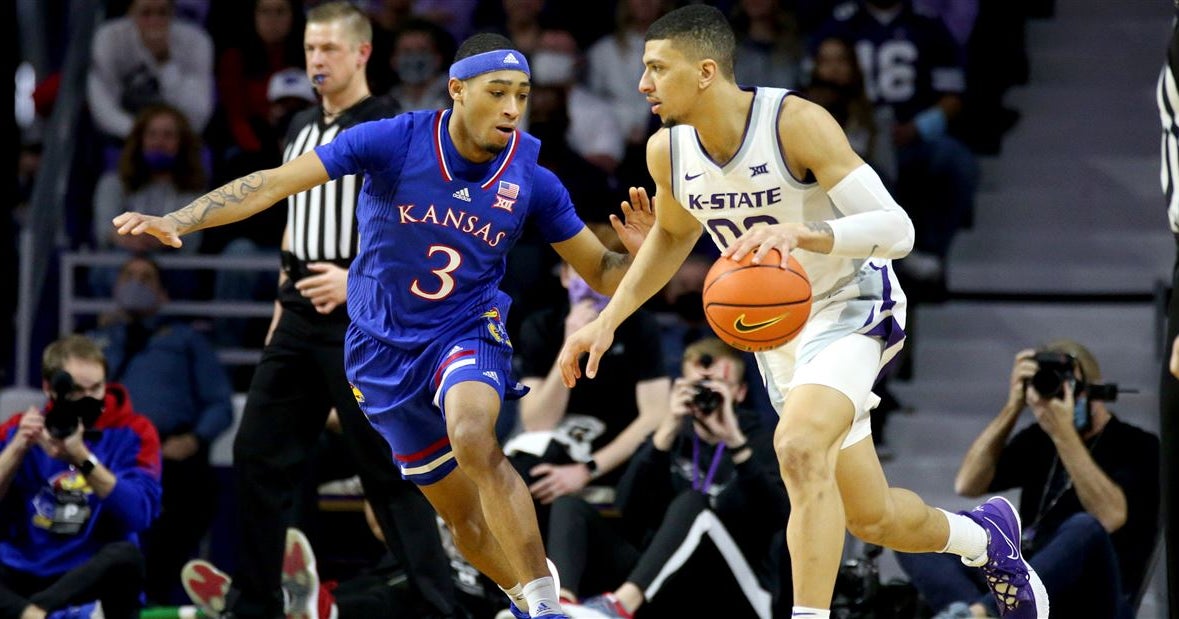 MANHATTAN, Kansas. — No. 7 Kansas basketball escaped with a 78-75 win over in-state rival Kansas State on Saturday. The victory moves KU to 202-94 all-time against its in-state rival and makes KU 16-2 on the season and 5-1 in conference.
The Jayhawks had to overcome a blistering start by the Wildcats. In the first half, K-State shot 59% from the field, mostly behind Pack Nijel, which fell to six three in the first half. KU allowed the Wildcats to score 50 points in the first half, their worst defensive outing in a half besides the game against Iona (52 points in the second half).
The second half was a different story, however. KU led an 11-0 run early in the second half to cut the Wildcats' 16-point lead to six points. From there, the two teams battled it out until the last minute. This is where KU keeps Ochai Agbaji took over, scoring KU's final six points. Agbaji led KU with 29 points, followed by Jalen Wilson with 16 dots.
Here is a recap of how the game unfolded…
FROM FIVE
KU has announced the following starting five for the game…
–Dajuan Harris
–Christian Brown
–Ochai Agbaji
–Jalen Wilson
–David McCormack
1ST HALF
*Kansas State won the whistleblower*
Waiting period for under 16s
Kansas State opened the scoring with a 3-pointer from Pack Nijel at the corner. Dajuan Harris answered for Kansas, draining a 3 on the other end. KU was active on the offensive glass early on, grabbing five offensive rebounds, four of which came from David McCormack. Overall, KU led 7-0 in the rebounding category in the first media timeout. KU started the game shooting 3 of 8 while K-State was 3 of 5 from the field. K State 9, Kansas 7
Less than 12 years
Remy Martin recorded at 3:20 p.m. Ochai Agbaji got on the board during this stretch, scoring back-to-back layups on a dribble-drive. Pack hit another 3 in the corner and Chrisitan Braun was able to respond with a 3 of his own. However, Pack came back down and hit another, making him 3 of 3 from beyond the arc to start. KU had three turnovers in the first eight minutes and K-State converted them to six points. State K 22, Kansas 16
Under 8 years old
Pack stayed hot, draining two jumpers. He then scored a lay-up in transition, which forced bill yourself to take a timeout at 9:47 with KU trailing nine points. Agbaji kept KU close with two consecutive field goals, but K-State hit two 3-pointers right after. Agbaji had 13 points and Pack had 19 at this stage. K-State also kept 6 of 10 pointers at 3 compared to KU's 3 of 8 clip. State K 38, Kansas 27
Less than 4 timeouts
KU was able to chain a few stops in a row. On the other end, McCormack and Braun made 1 of 2 free throws, which ended a scoreless streak. K-State got back on track though, with Pack posting his sixth 3 of the game. Wilson answered with a 3 to give him his first field goal. K-State was shooting 62% and had scored 1.54 points per possession in that media timeout. K-State also recorded only two turnovers compared to KU's six. State K 43, Kansas 32
half time
K-State went down in straight layups in the fast break to take a 14-point lead and force Self into a timeout with 1:37 remaining. Another lay-up of Markquis Nowell allowed K-State to end the half on a 6-0 run. The Wildcats shot 59% from the field in the first half and 7 of 14 from 3. The 50 points allowed to KU was the highest total points allowed in a half this season besides the game against Iona (52 points). K-State beat KU 20-14 in the halftime paint. State K 50, Kansas 34
2ND HALF
Waiting period for under 16s
Pack hit yet another 3-pointer for K-State to open the second half. Agbaji scored five straight points, then back-to-back layups from Wilson and Braun brought KU within eight points. These baskets were all part of a 9-0 KU run. KU smashed the glass to start the half, grabbing eight rebounds in total and four on the offensive end. K-State had just two rebounds to start the half and was shooting 2 of 5 from the field. State K 55, Kansas 47
Less than 12 years
K-State ended an 11-0 KU run with two free throws. Remy Martin then checked in for KU and immediately fouled Pack on his drive, resulting in an and-1 convert. Both teams began to increase their defensive intensity. K-State forced a shot clock violation and KU earned three straight saves. Wilson made a lay-up and was fouled before the break. KU shot 50% and K-State shot 33% in the first eight minutes of halftime. State K 60, Kansas 52
Under 8 years old
Both K-State and KU participated in the bonus. KU had two one-on-one chances but missed the front end. At this point, KU was shooting 10 of 18 (55.6%) from the free throw line. KU started on a quick 8-2 run behind four layups. On one of KU's possessions before the media timeout, KU missed three consecutive 3-point shots, two of which were fired by Martin. The super-senior guard went 1 of 5 from the field in that stretch. State K 65, Kansas 61
Less than 4 timeouts
Pack scored his eighth 3-pointer of the game to give K-State a five-point lead. Nowell scored five straight points for K-State before missing a layup, allowing KU to run out. Braun found McCormack on the other end for a dunk. Both teams shot 50% from the field during that streak, but K-State had eight field goal attempts to KU's four. Pack has led K-State with 35 points so far and Agbaji has led KU with 22 points. State K 75, Kansas 69
Final
KU continued to chip away at K-State's lead. Agbaji knocked down a shot to the rim with nine seconds left to give KU their first lead since the start of the game. He knocked down a pair of free throws afterwards to push KU to victory.
BE SURE TO SIGN UP FOR PHOG.NET'S DAILY NEWSLETTER…
With the KU basketball season in full swing, now is the perfect time to subscribe to our Phog.net daily newsletter! You'll receive an email from us every day with lots of Kansas-related stories – to keep you up to date with everything you need to know.
…AND VIP ACCESS TO PHOG.NET:
If you haven't tried Phog.net VIP access, now is the perfect time to get on board! You can register at present and get a annual subscription at 30% off! Or, you can choose a monthly subscription and get your first month for just $1!