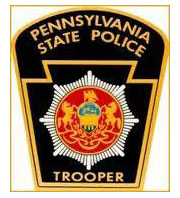 Pennsylvania State Police
• Police said they arrested Felicia Etter, 34, of Wilmington, for retail theft after she allegedly stole $ 700 worth of merchandise from Target in Concord Township on June 25. According to the police report, the stolen items included clothes, magazines, baby items, toys. , and other miscellaneous items.
• State police are investigating the theft of toiletries and cosmetics from CVS in Concord Township on July 9. The stolen items are valued at $ 224. Police are looking for an unidentified man and woman who escaped in a dark-colored van with tags from Delaware.
• Donald H. Ward II, 58, of Bernardsville, NJ, was cited for failing to stop at a stop sign on Route 202 near State Farm Drive on July 18, which resulted in a car and motorcycle. The motorcyclist, a 61-year-old man from Garnet Valley, was taken to Crozer-Chester Medical Center for treatment of his injuries.
• State Police arrested a 46-year-old man from West Chester for drunk driving following a traffic stop in Kennett Township on July 17. Police stopped the 2015 Jeep for speeding on Waywood Road and E. Baltimore Pike at 6:58 pm The driver was not named in the report.
• An 18-year-old Oxford man has been arrested for drug possession at Schoolhouse Road and E. Baltimore Pike. Police said they made the arrest following a search of the vehicle after a traffic stop on July 9. The driver consented to the search, according to the police report.
• Gerardo Cervantes-Mejia, 36, of Avondale, was arrested for felony trespassing in London Grove Township on June 25, but was also charged with drug possession when suspected methamphetamine was found while he was searched at Chester County Jail in Pocopson Township.
• A 55-year-old man from Sicklerville, NJ, and a 41-year-old woman from Atglen, were arrested on drug charges in Pennsbury Township on May 22. The arrests came after traffic stopped on Route 1 at Brinton's Bridge Road.
• Police said they arrested a 20-year-old woman for retail theft on June 8. The woman, not named in the report, is accused of attempting to steal two vacuum cleaners worth $ 270 each and two cases of diapers.
• Michelle Gondek, 48, of Coatesville, was cited following a vehicle crash on N. Chatham Road in West Marlborough Township on July 17. The police report says Gondek was driving too fast for the conditions and failed to negotiate a left turn in the road near Wertz Road and struck a utility pole. The report also states that Gondek fled the scene.
Kennett Square Police Department
Oscar Lemus-Rojas, 26, of Kennett Square, was arrested and charged with impaired driving and related traffic offenses after a traffic stop was triggered due to serious damage to the front and a headlight missing from the vehicle he was driving, police said. The incident occurred on July 4, at approximately 2:20 a.m., in the 500 block of Ridge Avenue, Kennett Square Borough. The report said officers saw an open can of an alcoholic beverage in the vehicle and noticed indicators suggesting intoxication. Field sobriety tests showed impairment. He was taken into custody on suspicion of drunk driving and subjected to a chemical breath test, which showed a blood alcohol level of 0.149 percent.

About CFLive staff
See the contributors page http://chaddsfordlive.com/writers/
comments
comments