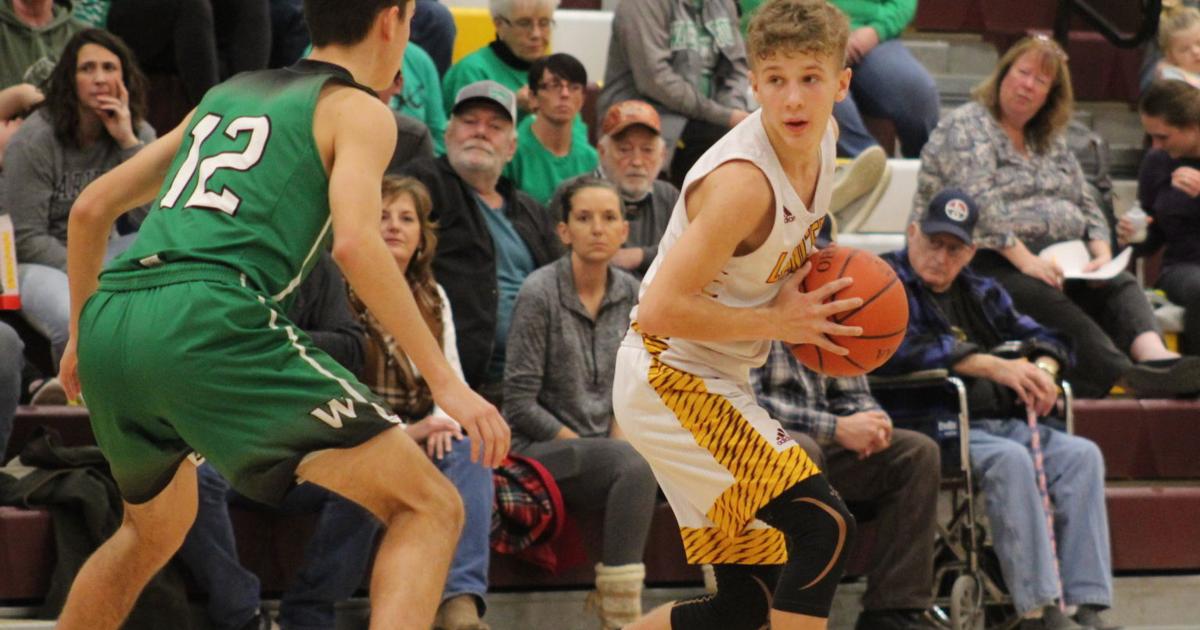 STEWART – Tariq Cottrill is just a sophomore, but he's on his way to becoming an electric point guard for the Federal Hocking Lancers.
"He's our general on the ground," Federal Hocking coach Jonathan Thompson said. "He's young. He's growing up."
Cottrill had a scorching shooting streak in the second half, and the Lancers got a last-second save for a key 55-53 win over Waterford on Tuesday at McInturf Gymnasium.
Cottrill led all scorers with 24 points on 9 of 13 shots, adding three assists.
Cottrill made six 3-pointers, in nine attempts, scoring 16 points in the second half to lead a Federal Hocking comeback.
"It's a manager's joy when you can get a player to hit rhythm like that," said Thompson. "He sinks our team when he goes in that direction, when he hits all the cylinders."
The Lancers (5-3, 3-0 Tri-Valley Conference Hocking Division) needed each of Cottrill's 3 points to fend off the Wildcats (5-2, 2-2 TVC-Hocking).
Federal Hocking led 47-37 with 5:14 left before Waterford returned.
Waterford second-year own guard Jarrett Armstrong scored three straight runs to bring the Wildcats down to 50-46, but Cottrill's final 3 of the night restored a 53-46 advantage with two minutes remaining.
The Lancers were unable to shake the Wildcats, however. Federal Hocking was leading 55-50 as Lane Smith assisted Caden Chapman's layup with one minute remaining.
Holden Dailey's three-point play on an offensive rebound with 43.2 seconds remaining brought Waterford to 55-53, setting up a dramatic conclusion.
Federal Hocking failed to block the game from the foul line.
The first attempt came from Chapman with 20.8 seconds left, but he missed the one-to-one situation ahead and the bonus.
Smith did manage to pull off an offensive rebound from Chapman, however, keeping possession with the Lancers.
Smith was huge for Federal Hocking in the win. The senior had nine points, 10 rebounds, five assists, three steals and one blocked shot, doing a bit of everything while battling Dailey.
"I told him at the start of the game to keep Dailey off the boards," said Thompson. "I knew that coming in he and (Jacob) Huffman could bounce back all the way. I told him, you've got to be up to it. Keep him off the boards and I think he did a great job.
"He stepped up. He brought in the energy, did it for us."
Smith's second chance gave Cottrill a free throw opportunity, but he too missed the front.
The Wildcats' first chance to tie or take the lead came from Jacob Huffman, who headed for the basket.
Tyler Rogers managed to secure a basketball share, pushing the ball away and ultimately forcing a turnover.
Rogers had five points, eight rebounds, three assists and two blocks in the win.
"He was able to get the ball back," said Thompson. "It's a huge game."
Rogers crossed the finish line with 5.7 seconds left, but he also missed the start of the bonus situation.
Grant McCutcheon grabbed the rebound and called Waterford's final timeout with 4.5 seconds left.
The Lancers were only 1 of 6 off the free throw line in the game.
"It's the widest shot of the game," said Thompson. "In my eyes you should be able to do them, but the pressure situations, the young kids, they didn't take advantage of it. It almost cost us."
McCutcheon handed the basketball to Huffman at the Wildcats' last chance. He managed to hand the ball over to Gaibe Ponchak for the last attempt.
Ponchack caught the ball inside the 3 point line along the left wing and took two steps back to attempt the 3 point. He struck the left side of the back panel, with Cottrill competing, allowing the Lancers to finally expire with the win.
"We had a bit of a missed mission on a screen," said Thompson. "We didn't talk about it and they were able to pull a wide open shot of it. Luckily, we challenged it enough where it didn't come in."
Tuesday's contest was a matter of physical back and forth. Waterford took a 7-0 lead, but Cottrill scored 3 straight points and the Lancers eventually took a 20-14 lead.
Waterford came back to lead 27-24 at halftime, and 35-31 after Ponchak's 3 straight points in the third quarter. The Wildcats were still leading 37-33 after an Armstrong field goal.
It was then that Cottrill took over. He hit a 3-point pointer, then assisted Rogers' 3 to give the Lancers a 39-37 lead.
Cottrill started the fourth with two more 3 points, one from an Andrew Airhart assist and then a corner 3 from a Chapman pass for a 45-37 lead.
By the time Chapman bounced into a rim jumper, Federal Hocking had scored 14 straight points to lead 47-37 with 5:14 remaining.
Armstrong led Waterford with 21 points, making 5 of 9 3-point attempts. Dailey added 11 points, 10 rebounds and three blocked shots.
Airhart also had nine points for Federal Hocking, while Chapman had six points and three assists.
Waterford and Federal Hocking are the two main challengers of the Trimble Tomcats in TVC-Hocking. Waterford, who have previously lost to Trimble, are down two games in the league standings while the Lancers remain perfect thanks to three league appearances.
It was also the Lancers' fifth straight win in the series against the Wildcats.
Federal Hocking will return to the field on Monday with a trip to southern Gallia in another TVC-Hocking match.
"They are one of the teams to beat this year," Thompson said of Waterford. "Basically the same team that we've seen in the last two or three years. Now it's all juniors and seniors. An important and important game. Obviously we want to deal with the TVC wins when we go. can. It was a good step in the right direction. "
Federal Hocking 55, Waterford 53
Waterford; 12; 15; 10; 16; -; 53
Federal Hocking; 12; 12; 15; 16; -; 55
WATERFORD 53 (5-2, 2-2 TVC-Hocking)
Holden Dailey 5 1-2 11, Grant McCutcheon 2 0-0 5, Gaibe Ponchak 3 0-0 8, Jarrett Armstrong 8 0-0 21, Jacob Huffman 3 0-0 6, Dylan Hartline 0 0-0 0, Peyton Powers 0 0-0 0, Gavin Brooker 1 0-0 2; TOTALS 22 1-2 53; 3-point goals: 8 (Armstrong 5, Ponchak 2, McCutcheon 1)
FEDERAL HOCKING 55 (5-3, 3-0 TVC-Hocking)
Lane Smith 4 1-1 9, Tariq Cottrill 9 0-1 24, Caden Chapman 3 0-1 6, Andrew Airhart 4 0-2 9, Tyler Rogers 2 0-1 5, Gage McVey 0 0-0 0, Iden Miller 1 0-0 2, Ethan McCune 0 0-0 0; TOTALS 23 1-6 55; 3-point field goals: 8 (Cottrill 6, Airhart, Rogers 1 each)
TEAM STATISTICS / INDIVIDUAL LEADERS
Field goals – Waterford 22-50 (0.440), 3 point field goals 8-18 (0.444); Federal Hocking 23-47 (.489), 3-point field goals 8-19 (.421); Free throws – Waterford 1-2 (0.500), Federal Hocking 1-6 (0.167); Rebounds – Waterford 29 (Dailey 10), Federal Hocking 27 (Smith 10); Assists – Waterford 10 (Ponchak 3), Federal Hocking 14 (Smith 5); Blocks – Waterford 4 (Dailey 3), Federal Hocking 4 (Rogers 2); Turnover – Waterford 14, Federal Hocking 12; Vole – Waterford 6 (McCutcheon, Armstrong 2); Team fouls – Waterford 14, Federal Hocking 10; JV game – Federal Hocking 38, Waterford 28.