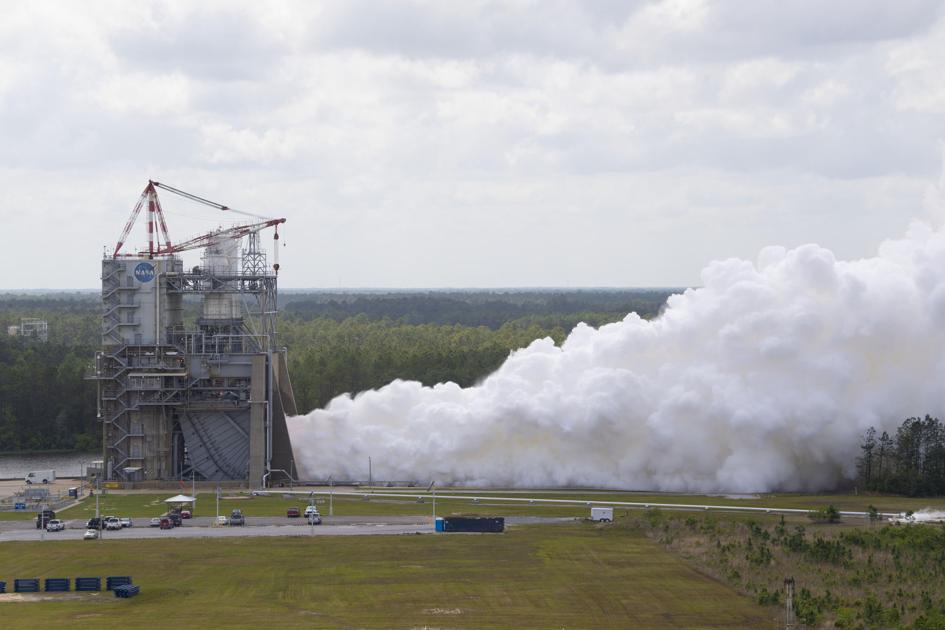 FAIRMONT – With the first of NASA's Artemis missions slated to launch in just a few months, the agency's Katherine Johnson independent verification and validation facility at Fairmont has been working hard to run software tests for critical components of the project.
Project Artemis, which has the ultimate goal of eventually sending humans to Mars, has been one of NASA's main goals for the past two years, and according to Joelle Spagnuolo-Loretta, launch system project manager Space (SLS) IV&V project, the project's first mission, Artemis I, is closer than ever to launch.
Spagnuolo-Loretta said that more recently the agency completed work on the rocket that will transport space components out of Earth's atmosphere, noting that the rocket is quite different from those seen in the past.
"This will be the most powerful rocket ever built by NASA, and we need that extra power to take us further into deep space when we want to go beyond low earth orbit," Spagnuolo said. -Loretta.
She said NASA recently completed a "green walk" ground test for the rocket in March, which generated 1.6 million pounds of thrust and gave workers at the IV&V facility much needed data for s 'ensure that the rocket software is operational.
"In this test we had the SLS midstage, which is basically the backbone of the rocket… with the four RS-25 main engines, and during this test they actually fired all four engines. and run the full eight minutes. "said Spagnuolo-Loretta. "It allowed us to make sure that we can load the fuel properly and do all of those pre-launch sequences. Once we hit the start button, the motors kick in and a rated climb scenario allows us to make sure the software is running properly to monitor motor conditions and shut down if necessary.
Wes Deadrick, the head of the facility's office, spoke about the importance of the Artemis mission during an interview in March.
"We have a lot of opportunities ahead of us with the Artemis mission," said Deadrick. "I would say half of our program, in one way or another, helps support the development of Artemis missions. It's exciting to see this type of work happening in West Virginia.
NASA's plans for the next Artemis missions will be to go to the moon and build some sort of "gateway" into its orbit piece by piece. This gateway will act as a space station and provide humans on board and missions with a place to stay before they descend from orbit. In 2020, Deadrick explained the importance of software testing of the IV&V facility as part of the Artemis mission.
"A lot of our team remembered what happened with Challenger, and no one wants it to happen again," said Deadrick. "Yes, we want to see people on the moon. It's exciting, but the most important thing for us is not to lose life in this process. "
The planned launch date for Artemis I is November, although Spagnuolo-Loretta noted that this is a tentative date.
"It all depends on how the integration and payment go," she said. "If this needs to be delayed, we will, of course, to make sure everything is safe. "
Additionally, humans won't be on board for the launch until Artemis II, which officials hope to launch by the end of 2023.
Then the launch of Artemis III will hopefully see humans return to the surface of the Moon.
Spagnuolo-Loretta said she was more than happy to be able to work on the Artemis mission, and while she and her team only play a small role in getting humans back to the Moon and ultimately Mars, they will always define history.
"The mere thought of contributing to a mission like this and helping provide the assurance that the software will perform as it should and is intended is just thrilling," said Spagnuolo-Loretta. "We're going to make history again, and it's quite humbling to be a part of it. …
"It's to go where we've never been and explore what's beyond low earth orbit. The opportunities are exponential as far as we can learn. Further into deep space, we just had telescopes and satellites and the like that gave us views of those depths, but when we actually have a human presence, it's a whole new paradigm. There is nothing that can analyze something like the human himself. It is extremely exciting to think about what we could learn.
His passion for NASA space exploration was shared by the director of the IV&V facility, Greg Blaney, in an interview in 2020.
"Building the ability to put boots on the moon and have the ability to sustain life on the moon and possibly bring us to Mars (is something) that we cannot do yet," Blaney said. "We can't do it now. We did it with Apollo, but we weren't here to stay. We landed and came back. We are talking about sustaining life, science, research and mining on other planets.
"The idea of ​​choosing a goal is to pick one that is currently beyond your reach, and then develop the technology and bring the science together to achieve it. It is the motivation. … It is leading you to something that you cannot do now.
Spagnuolo-Loretta also briefly touched on the growing interest in civilian spaceflight. If the IV&V facility performs software testing on such missions, she said that while civilians are different from astronauts, it won't affect how seriously she and her team take their work.
"The result is the same," said Spagnuolo-Loretta. "Whenever a human life is at stake, the work we do is crucial to ensuring their safety and mission success. Everyone takes pride in their work, but it's a "no kidding situation". It has to work. Whether it's an astronaut or a civilian, it's one and the same, in my opinion, and we want to be as diligent as possible to make sure these missions are safe.
Fairmont News Editor-in-Chief John Mark Shaver can be reached at 304-844-8485 or [email protected]