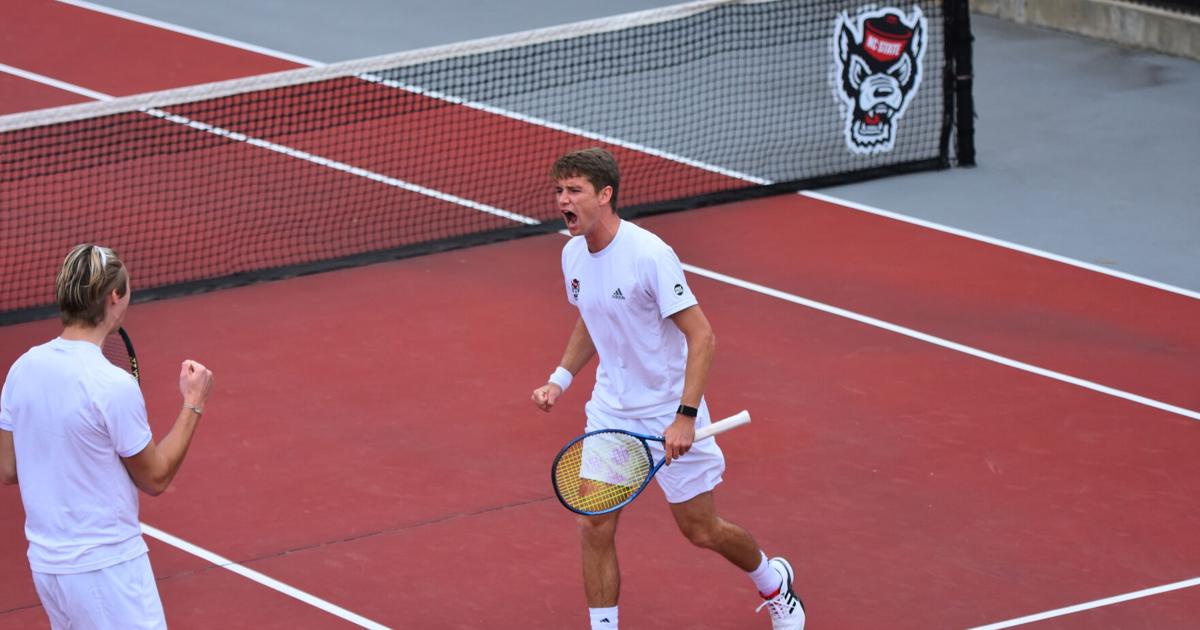 NC State's No. 24 men's tennis team quickly defeated No. 25 UCF in a decisive 4-0 match.
After competing closely with the Knights (1-5) for the doubles point, the three singles matches needed to win were comfortably taken care of by the vanguard of the Wolfpack singles roster (4-2 ).
Despite losing the first doubles ground, the Wolfpack won the next two to take a 1-0 lead. Redshirt senior Joseph Schrader and freshman Joseph Wayand won 6-4, while junior Robin Catry and second Luca Staeheli won in a tense match that ended in a tiebreaker, winning 7-6 (7-5) to clinch the doubles point.
Junior Martins Rocens was the first to strike in the singles at 6-3, 6-0 and had a near-flawless second set to give the Pack a 2-0 lead.
Even though her match went to three sets, Catry was able to finish second in the singles and extend the Pack's lead to 3-0. With the score at 6-3, 4-6, 6-0, Catry quickly overpowered her opponent and overcame her impressive third set to win despite dropping her second set.
Pack 3, Knights 0Robin wins 6-3, 4-6, 6-0 over Cronje to ward off one!#GoPack | #PackRisin pic.twitter.com/jHspba9mKn

– NC State Men's Tennis 🐺🎾 (@PackMensTennis) February 6, 2022
To end the day, Staeheli clinched the Wolfpack victory with a 6-1, 7-6 (7-5) victory. Although he was challenged at the end of the second set and forced to go to the tiebreaker, Staeheli managed to earn clutch points to give his team the victory. Play was stopped before senior Rafa Izquierdo Luque could complete his match on the first court, where he trailed 4-3 in the third set.
With a strong singles and doubles performance, the NC State men's tennis team rebounds with an impressive ranked victory after a two-game losing streak. The Pack are now 2-2 in their last four games, all against ranked teams.
After coming through one of the toughest stretches of his schedule, he has the opportunity to string together the wins heading into his ACC debut at the end of the month against Boston College.
The men's tennis team is now looking forward to a day of double action on Saturday, Feb. 12 where they take on Presbyterian at 11 a.m., followed by NC Central at 3 p.m.