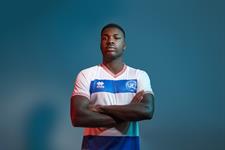 Winner – #LongLiveThePrince, Engine MHP + Mischief for the Kiyan Prince Foundation
#LongLiveThePrince was a bold and uplifting concept executed with ambition that got screaming results. Kiyan Prince was a 15-year-old Queens Park Rangers footballer on his way to stardom before his life ended in knife crime.
The Kiyan Prince Foundation, created by his father, Mark, offers hope to other young people on a perilous path, and the Engine team were determined to help them achieve this by sharing Kiyan's legacy. Prince and increasing donations.
#LongLiveThePrince was designed to imagine him as he might have been now – 30 years old, playing for QPR – working with age projection software and a photorealistic artist.
This provided a powerful visual to represent the central empowering message of the campaign, rather than the tragedy.
It was also essential to focus on working both with those close to Prince and a range of big brands.
Seeking to reach out to both potential donors and young people, Engine secured EA Sports approval to create Prince as an actor in FIFA 21, and QPR announced that he was "signing" him, giving him jersey number 30.
Meanwhile, a deal with JD Sports led to Prince running an advertising campaign, and he was featured on a Match Attax collectible card.
With content created by Engine, including a short film about Prince, Engine has garnered support from stars on social media, including footballer Raheem Sterling.
The campaign garnered enormous press attention and the charity, which previously averaged £ 1,000 a week in donations, raised £ 40,000 in the first two weeks.
Critically, research with 500 people aged 16 to 25 showed that 60% had heard of Kiyan Prince, helping to further secure his legacy and inspire the association's target audience.
The judges said
This is a remarkable achievement in terms of ambition, craftsmanship and execution with results that simply transcend coverage and clicks. It is a campaign that will be discussed, discussed and presented as an example of best practice in communication for years to come.
---
Highly Recommended – 'Stop.Breathe.Think.', Alpaca Communications for Snow-Camp
Alpaca Communications helped create the first track of mindfulness exercises with the goal of helping downtown youth involved in the Snow-Camp charity process their feelings.
As a result, more than 600 young people have signed up for free mindfulness classes and schools are using the trail as anti-knife crime educational material.
Pre-selected
'Bombay Sapphire Supermarket' by Ogilvy PR with AMV BBDO and the Design Museum for Bombay Sapphire
"Frozen Veggie Food Bank" by Seven Communications for Strong Roots
Cow's 'Period' for Intimina
Rent-A-Pred by Hill + Knowlton Strategies for Adidas