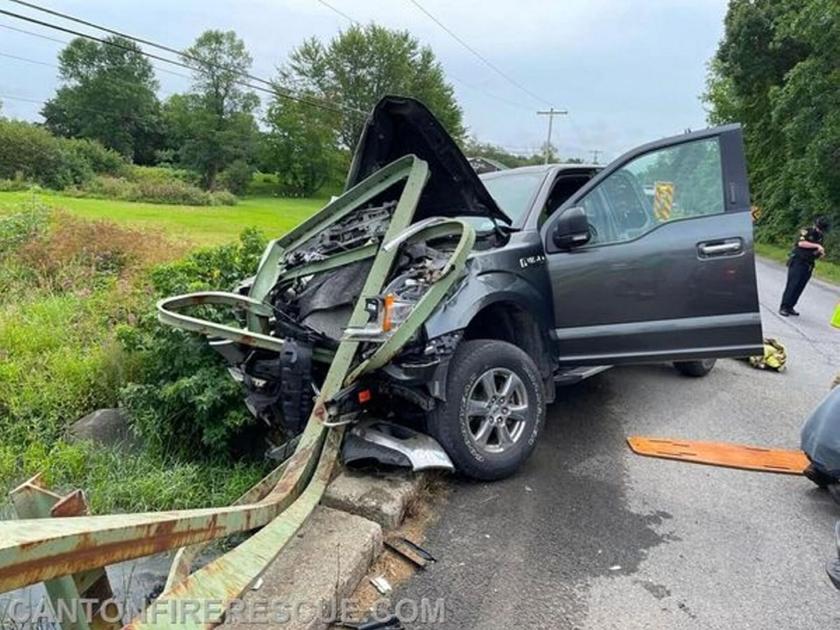 TOWNSHIP – Volunteer firefighters and a retired firefighter were in the right place last week after seeing a truck crash into a bridge and then catch fire.
Truck driver Dale Nolan was in Canton last week when he heard the crash on Cowan Road, causing him to run down the road, meet a few firefighters who were thankfully nearby, put out the flames and to open the vehicle door to contact the unconscious driver.
It was Wednesday, August 18, when Mr. Nolan was delivering tractors to the lumber shop. He said he was just finishing when he heard the crash, followed by a ball of flame bursting into the air.
"The whole front of the truck caught fire," said Nolan, who was a Syracuse firefighter for 20 years before retiring. "I'm 51, but I ran as fast as I could."
As he ran towards the truck, which had crashed onto a bridge, he said he saw two members of the Hannawa Falls Fire Department who were also at the store and also heard the crash.
They all converged on the scene and began to put out the flames. The Hannawa Falls fire pumps did not start, Nolan said, but they still managed to put out the flames with a fire extinguisher in the truck. Photos of the F-150 appear to show the truck almost suspended from the bridge; however, Mr. Nolan said he was tangled in the guardrail and rather stable.
Mr Nolan said the driver's door was stuck so he ripped it open to let smoke out of the cabin. He said the driver was unconscious and had collapsed forward when he first arrived at the scene. He also noticed that there were tracks a fair distance from the road before the scene of the accident, which led him to believe the driver had a medical emergency.
"When he came to himself, he basically confirmed that because he said 'What happened?'," Mr. Nolan said. "He was a little confused and all, but I think the airbags and the construction of the truck did a really good job of keeping him safe."
Mr Nolan said they then kept the driver comfortable until medical staff arrived at the scene.
"If this had happened in a more rural area, I think at the rate the truck was burning it would probably have been engulfed in flames within minutes," he said. "It was just in the right place at the right time."
As a firefighter for two decades, Mr Nolan said he had seen many fatal accidents so it was nice to be able to prevent that before it was too late.
"It's a battle we can win. As firefighters, that's what we were trained to do, so that's what we did. We helped him, "he said." Sadly I lost my dad to cancer in February and it's a battle I couldn't win so it's just a good feeling that we were able to help someone. "