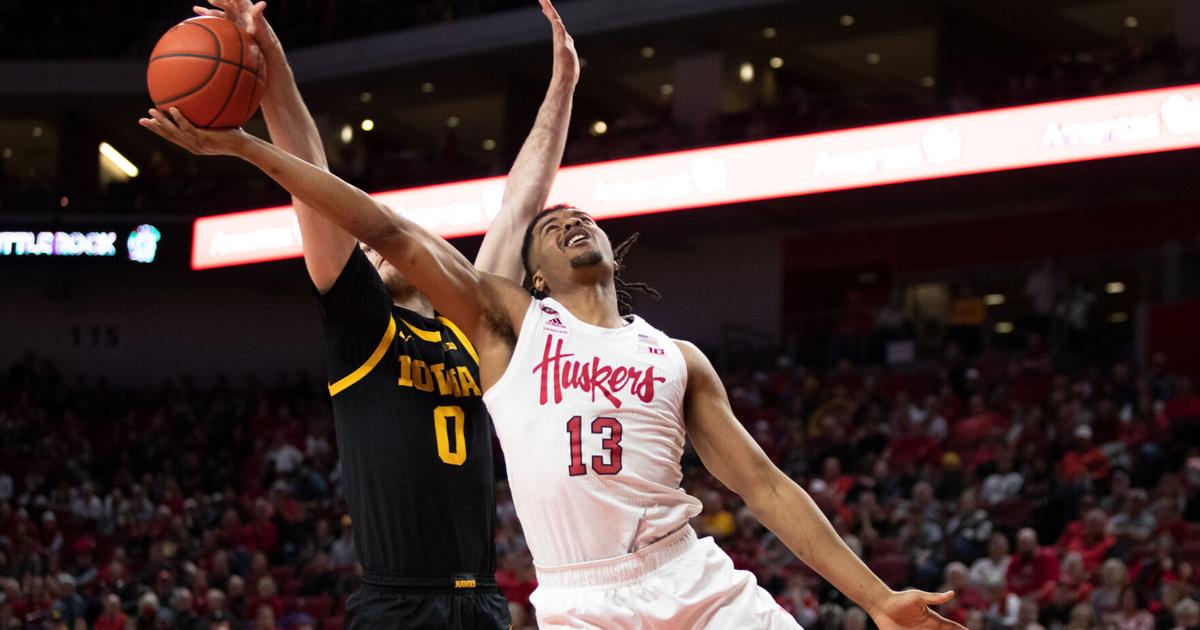 Sometimes basketball is an extremely simple game.
Nebraska men's basketball lost to Iowa by 10 points, 88-78. He scouted the Hawkeyes 14 points, losing the second chance points battle 19-5 to the Hawkeyes. It finally proved the difference between scintillating upset and the depressing norm.
"[Iowa's] been very good, very effective at creating second chances," Nebraska men's basketball head coach Fred Hoiberg said after the game. "When you give them that many chances, they're going to sting you because of how powerful their attack is. You have to find a way to finish off the possessions.
The Huskers, in a complete spin since the first meeting between the two teams, had Iowa a little shaky. Nebraska was going blow for blow with one of the hottest teams in the conference, trailing just 45-44 with 15:43 remaining after a turnover jump by junior forward Lat Mayen.
At the other end of the field, Nebraska forced a missed 3-pointer. He couldn't grab the offensive rebound.
Sixth-year senior guard Jordan Bohannon — all 6-foot-1 — grabbed the offensive rebound and converted a deep 3-pointer off the top of the key. Iowa extended its lead to 48-44.
In stark contrast to what their 7-20 record entering Friday's contest may have implied, Nebraska did not back down. Freshman guard CJ Wilcher connected on a pull-up to cut Iowa's lead to 54-51. He then met that possession with a solid defensive effort, with quality inside defense forcing an airball from senior Hawkeye striker Filip Rebraca as the shot clock expired.
Iowa sophomore guard Tony Perkins was the only player on the field to complete possession, smashing the boards unopposed to recover Rebraca's errant shot. The Hawkeyes increased their lead to 56-51.
"Give those guys credit, their guys stepped up and made big plays," Hoiberg said. "Perkins is going for 20, and that was the difference."
Hoiberg's team seemed destined for one last push. After giving up an odious 11-0 run that turned a 58-56 game into a 69-56, Nebraska senior guard Alonzo Verge Jr. sparked a late rally. A quick scoring flurry cut the score to 71-62 in favor of Iowa with 5:02 remaining.
The Huskers fouled second-year Iowa forward Keegan Murray, who made just 15 points on 6-of-13 shooting, on the ensuing possession. Murray missed the forward on a one-on-one, but his twin brother and sophomore forward Kris Murray provided the offensive rebound. Keegan Murray collected the ball and quickly returned to the paint, where he finished on the edge.
Nebraska did not reduce the lead below eight points for the remainder of the contest. It was appropriate. In Nebraska's final regular-season home game, the program reminded those in attendance at Pinnacle Bank Arena just how close the Huskers seem to finally turning a corner.
It also reminded them of how far they had to go.
The first half was a perfect example. Nebraska provided jaw-dropping moments of offensive efficiency and equally jaw-dropping displays of incompetence. The Hawkeyes would respond almost instantly to Husker's baskets in the first 20 minutes, catching Nebraska in transition on several occasions.
Junior guard Trey McGowens would make a knife cut in the basket and finish on the rim, then Nebraska would allow Hawkeye's second-year guard Ahron Ulis to run downfield seconds later for a layup. Nebraska senior guard Kobe Webster, one of seven Huskers honored during the Senior Night festivities, hit a 3-pointer to extend Nebraska's lead to 28-21 with 6:47 remaining in the first half. 10 seconds later, Iowa senior guard Connor McCaffrey hit an uncontested 3-pointer.
Therein lies Nebraska's central problem both Friday night and in every competition this season. Never, ever has the team been consistent enough to completely knock down an opponent of Hawkeye's caliber. Eventually, Iowa took advantage, with McCaffrey hitting a second 3-point chance with 1:40 left in the first half. Iowa held onto that lead at halftime.
Hoiberg's team did so well in the first 20 minutes. He shot over 50% from the field and over 40% from the 3-point line. Verge had four assists. McGowens had nine crucial points while junior forward Derrick Walker had eight points and three rebounds. And yet, it was not enough to keep a lead.
Eventually, Iowa's repeated second-chance batons gave way to another baffling trend: Nebraska's inability to react when knocked down. Iowa's 11-0 second half shouldn't have ended the game — Nebraska had over six and a half minutes to try and close a 13-point lead — but it seemed impossible.
"We struggled with that all season, when we get hit we just don't know how to get back up," Verge said after the game. "Two points, four points, we just keep our heads down. It's frustrating, it's so frustrating."
Predictably, things won't get much rosier from here. Nebraska has three games left in its regular season. Three straight losses would mark a 1-19 conference record, the Big Ten's worst season in both Hoiberg's tenure and program history. Other than avoiding those obnoxious lows, there's not much to be positive about as the season draws to a close.
Next season is guaranteed to feature some year-over-year stability, at least at the helm. Nebraska athletic director Trev Alberts announced Friday that Hoiberg will return next season on a restructured contract. Amid another single-digit winning season, Hoiberg offered little when asked about the season-over-season improvement after the game.
"We need to win more," Hoiberg said.