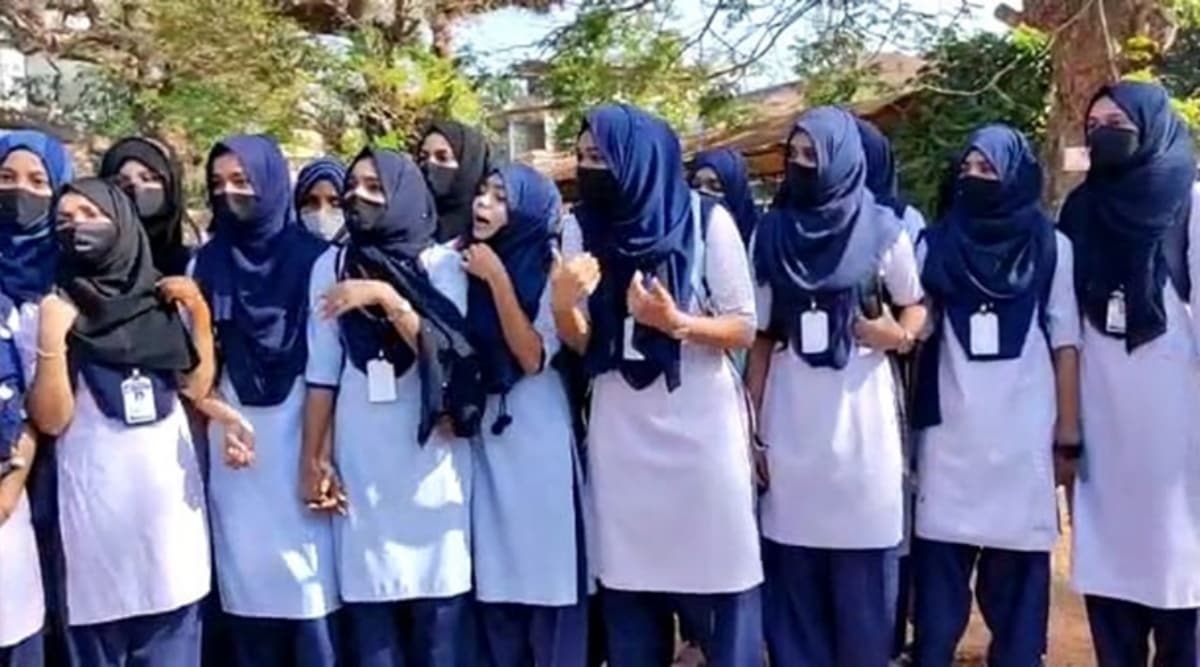 But one trend is unmistakable: As with girls of other faiths, there has been a steady increase in the number of Muslim girls attending schools and colleges in Karnataka – and, indeed, across the country.
Their number, as a share of their population, is still lower than that of non-Muslims, but the rise is significant and steady, several government surveys show.
Between 2007-08 and 2017-18, the gross attendance rate (GAR) of Muslim women in higher education in India increased from 6.7% to 13.5%, according to an analysis of state-level data. unit of the 64th and 75th cycles of the National Sample Survey (NSS) by Khalid Khan of the Indian Institute of Dalit Studies.
Between 2007-08 and 2017-18, the gross attendance rate (GAR) of Muslim women in higher education in India increased from 6.7% to 13.5%,
The GAR, in this context, is the ratio of Muslim women aged 18-23 who attend college to the total number of Muslim women in that age cohort. Incidentally, the GAR of Hindu women in tertiary education was 13.4% in 2007-08 and increased to 24.3% in 2017-18.
In Karnataka, where a the ban was imposed on the hijab – and confirmed by the court in an interim order – in public educational institutions, the rate of proportion of Muslim women in higher education increased from 1.1% in 2007-2008 to 15.8% in 2017- 2018, according to the data.
Protest over hijab issue at Esplanade, Kolkata. (Express photo by Partha Paul)
A review of school data also shows that more girls in the community have access to education today than ever before.
According to data from the Unified District Information System for Education (UDISE) on primary and secondary education, nationwide, the share of Muslim enrollment in the total enrollment of girls in upper primary (classes 5 to 8) fell from 13.30% in 2015-2016 to 14.54. In Karnataka, it went from 15.16% to 15.81%.
In Karnataka, where a ban on the wearing of the hijab was imposed – and confirmed by the court in an interim order – in public educational institutions, the GSR for Muslim women in higher education rose from a minimum of 1 .1% in 2007-2008 to as high as 15.8% in 2017-2018, according to the data.
"This increase in the schooling of girls and women transcends religious and social groups. We see it in every state," said a top expert from a nonprofit that works primarily in school education. "Hindu or Muslim, Sikh or Christian, girls and young women are defying the odds on many levels, including in their families across the country. Lots of issues are popping up, like the current one on what to wear, but I'm absolutely certain and hope the push continues because women won't look back.
For Afeeda KT, who teaches sociology at Mount Carmel College in Bangalore, more Muslim girls in schools and colleges are "hard-won gains that must be sustained".
"The hijab dispute clearly extends the political targeting of the Muslim community by Hindutva forces," Afeeda said. "If we look at its impact on the higher education of Muslim women, it is too early to predict. But it will influence life choices, especially for women who must also tackle the patriarchal system embedded in this country.
More so, for Muslim girls and women. Khan, who studied the GAR data, said preventing young women from attending universities because of their attire would lead them back into "the same patriarchal trap that the Karnataka government thinks it is eliminating".
"One might think that wearing a headscarf is a patriarchal imposition of the dress on a girl's body. In such circumstances also, the entrance of Muslim women with headscarves is the only way to solve this problem. If they wear a headscarf under pressure from family and society, they will take it off once they are economically independent after getting higher education," Khan said.
Former Planning Commission Secretary NC Saxena expressed concern about the hard lines of the current debate. "Equal prejudice causes unequal harm. Muslim women have the moral and legal right to wear the hijab, but it is a bad strategy because it will lead to further polarization and prejudice outside the community, which will affect them in many ways. This will further widen the gap," Saxena said.
Going to schools or colleges is what will empower girls, said Poonam Batra, an education professor at Delhi University. "It is education that can enable young women to understand how a hijab or a ghunghat are symbols of patriarchy. So what's regressive here is denying them an education in the name of respecting school uniform rules. The agenda is to make Muslims more invisible," Batra said.