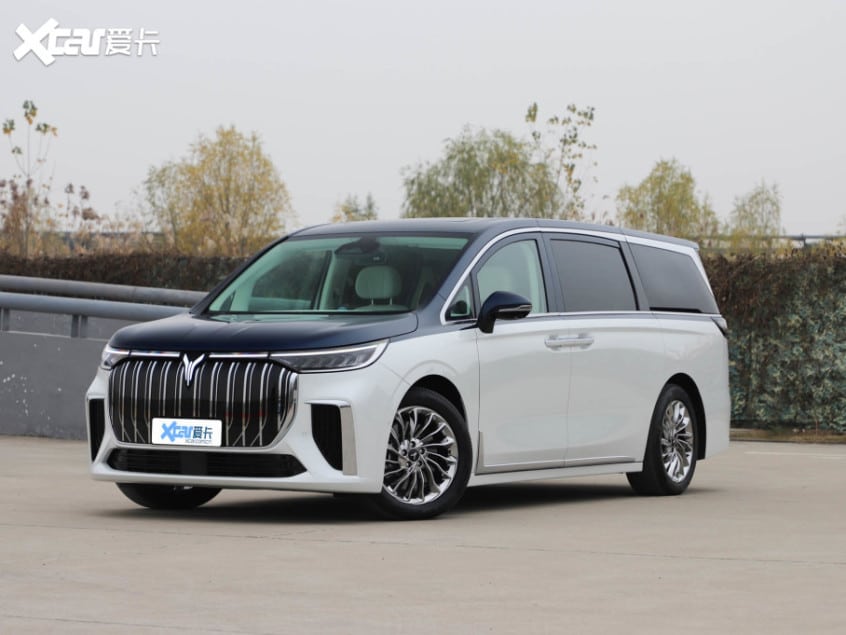 The Voyah Dreamer, launched in production form in Wuhan last night, appears to be the fastest production minivan on sale with a 0-60 mph time of just 5.9 seconds.
The anticipation for the Dreamer has been wild since the extravagant and luxurious concept was launched in Guangzhou last year and the final production version remains close to the concept, at least on the outside.
As with most large MPVs, the front features a gigantic grille and abundant use of chrome. Plus, the two-tone paint adds a layer of class, while the Dreamer appears to sit incredibly low to the ground.
Voyah dream big
Measuring 5315mm long, 1985mm wide and 1820mm high, the Dreamer is a big beast. A 3200mm wheelbase means there's interior space for seven, with reclining captain's chairs in the first two rows and a three-person bench in the rear.
There's even enough space for four 24-inch suitcases with all seats up, enough for a comfortable weekend getaway.
Alternatively, you can spec your Dreamer in ultra-luxury four-seater mode which Voyah claims is similar to a mobile office.
Like the FREE SUV, the Dreamer retains the front tri-screen layout, heated, ventilated and massaging front row seats, air suspension and a premium DYNAudio sound system, while adding dual power sliding rear passenger doors for good measure. OEKO-TEX leatherette in the cabin keeps things vegan.
A Qualcomm 8155 chipset, 5G network capability and over-the-air updates keep the Dreamer at the forefront of the tech game. Level L2+ driving assistance, including adaptive cruise control and automatic lane centering, is added to remote parking and gesture recognition functions.
The fastest minivan on sale
Under the hood, the Dreamer is available in full-battery electric and extended-range EV (EREV) forms. EV versions use two 160kW motors, one on each axle, which combine to produce 320kW and 620Nm enabling 0-60mph sprints in 5.9 seconds. This makes the Dreamer the fastest production MPV since the Mercedes-Benz AMG R63.
In EREV form, a 1.5-litre turbocharged engine recharges the battery, while twin motors with a slightly lower combined output of 290 kW and 610 Nm allow the Dreamer to accelerate from 100 km/h one second in 6.9 seconds.
The full EV claims a range of 600km with the EREV at 700km. Both versions are electronically limited to a top speed of 200 km/h and weigh 2625 kg and 2540 kg respectively.
A choice of six exterior colors will be available, including dark purple on the concept. Inside, the cabin can be specified in light brown or cream.
Prices are quoted between 380,000 and 480,000 RMB, with the specialized four-seat custom option starting at 600,000 RMB.
The Dreamer will take on upcoming premium electrified minivans from Zeekr, Denza and Hongqi.
Image credits: XCar